2020 has been a difficult year financially for many in the community and at Holy Nativity we wanted to do something to make the Christmas Holidays a little easier and a little more joyful for everyone. When Bailey Wilcock suggested to Revd Robb that we could give something to every kid on the estate it started to snowball from there.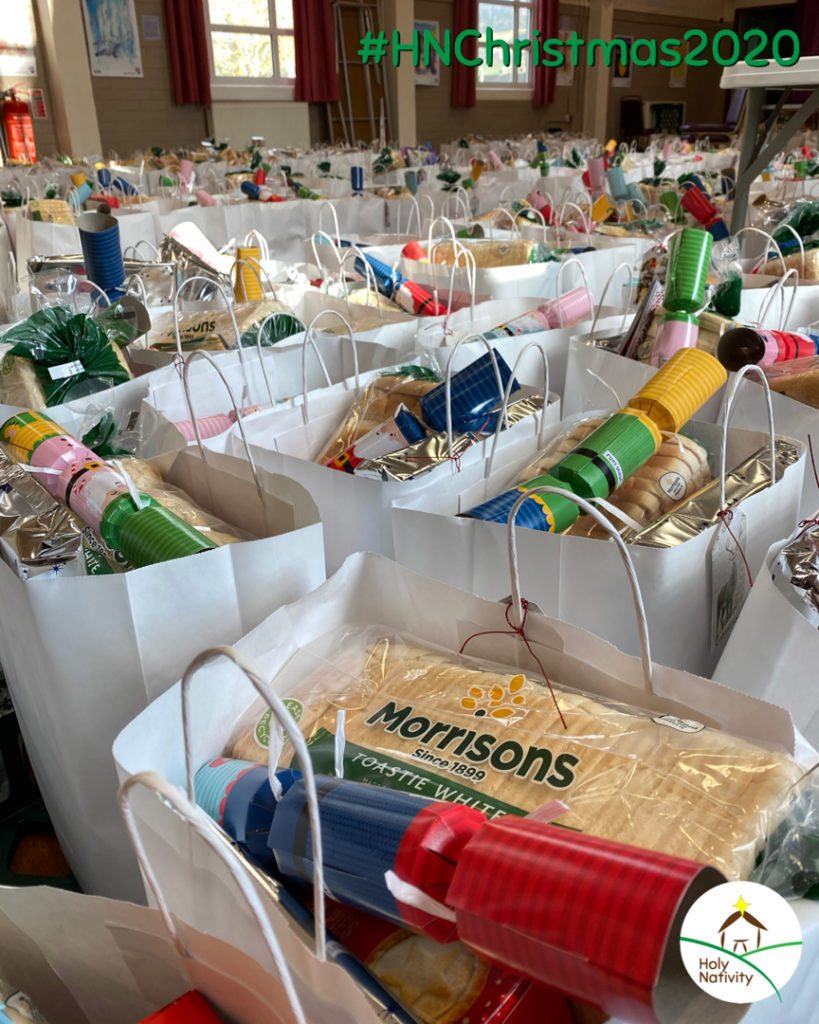 "When my trip to Gambia was cancelled due to covid, I wanted the money to go into the community that has helped me so much".

Bailey
With the timing being just before Holy Nativity's Harvest Festival and Marcus Rashford's holiday hunger campaign, we decided as a church to do something for every family with children at Ash Green School. Within minutes, Bailey had bought the 473 pupils a selection box and we found somewhere at church to stack them. Then we looked to raising the money to provide a bag of food for every family to go with it.
Last week, a small team of helpers began the worlds biggest game of Supermarket Sweep collecting pasta, mince pies and a host of other items and loading them into the vicar's van. Once everything was finally stacked in church after two days, a larger group of people assembled and began the process of bag packing.
Of course we then had to work out how to get hundreds of bags of food and hundreds of selection boxes over to the school and into the right classrooms.
It has been a lot of hard work all week. I think Bailey and I are now both ready and trained for a warehouse job in Morrisons.

I would like to say a huge a huge thank you on behalf of the church to everyone who has made this possible. Bailey and Maddison spent two days with me lifting and carrying crates of food and without them this would never have happened. The people who came to pack the bags on Wednesday turned something I expected to take a day into 2 and a half hours. Thank you so much.

Our local Morrisons has been amazing, especially Julie Baimbridge, the community champion, who gave hours and hours of her time to help us get exactly what we need. We are also very grateful for the many donations that Morrisons added to our efforts!

Ash Green School as ever have been wonderful partners with the church making this possible.

And finally, a huge thank you needs to go to the people who have raised the thousands of pounds we needed to make this a reality. Without the generous donations of the Church community here in Mixenden and Illingworth and our friends from around the country, none of this would be possible

Revd Robb
We hope that in some small way we have been able to bring a little light into the darkness at Christmas for a few people.