As we start to plan for relaunching the Holy Nativity Community drop in we need to restock our pantry with all the foods we need to support families and individuals in our community in desperate need.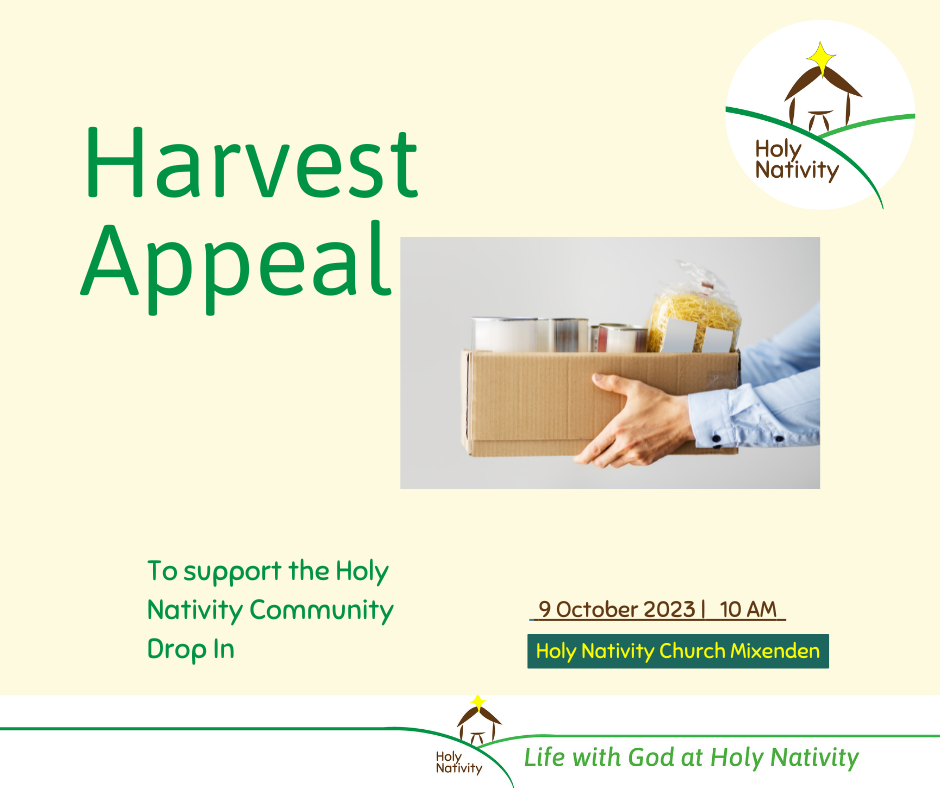 In past years our community have been incredibly generous every Harvest in offering food and toiletries to support people in need and we are praying that this year you will be just as generous.
What can I bring?
To make sure that we can give the best possible support, and to make sure we make the most of the storage available to us, we have a list of things that we can keep in stock and which we'd love you to think about donating:
Food Pantry Staples:
Bags of Pasta
Jars of pasta sauces
Packets of instant rice, noodles and pasta
Tinned vegetables, soups, meats and puddings
Sandwich spreads
Beans
Breakfast Cereals (porridge needs to be the instant variety please not plain/raw oats)
Biscuits
Jam
Toiletries:
Shampoo and conditioner
Bars of soap (these last much longer than shower gels and are much better value)
Toothpaste and toothbrushes
4 packs of toilet roll
Deodorant
Where do I bring it?
We welcome donations whenever church is open but at Harvest we hold a thanksgiving service where people can bring special donations. Our Harvest service this year is 10am on Sunday 9th October and we'd love to see you there.
If you can't make the service church will be open until around 12 noon on Sunday or you can arrange to make a drop off at other times when church is open by contacting us via any of our social media channels. Please bear in mind that the church is run by volunteers and so it is not possible to simply drop off at any time, we will have to find a good time to welcome you and your donation.
What if I can't make it but still want to support the work of the Community Drop In?
If you can't make it to our Harvest service or simply can't make a physical donation of food or toiletries you can support us just as well by making a financial donation to our work. The best way to do this is through regular monthly donations to Holy Nativity which can be done in church or online. If you can't give regularly, a one off gift goes a long way to keeping the work of the church in the community going!
If you woult like to give specifically to the Tackling Poverty fund, you can also do that through this link.
For mor information, the full link for Giving to Holy Nativity is here.
Thank You
We are always blown away by the generosity of everyone who supports us, whether practically by volunteering their time, through donations of food and supplies or through their financial giving.
We all know that times are tough at the moment and we appreciate that everyone is feeling it. We are so grateful that with your support we are able to help those in the most need in our community. We pray for our supporters every single day and we thank God for your generosity.