On a slightly damp Wednesday in June a cohort of disciples from Holy Nativity Church Made their way to the Community of the Resurrection in Mirfield.  The monastic community have been living, worshiping, praying and working on the hill at Battyeford for over a century and it was a real privilege to be able to worship with them.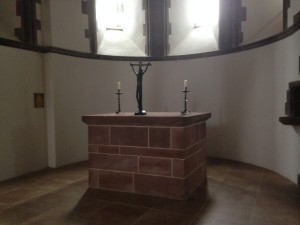 Our day began with a pilgrimage around the newly refurbished church experiencing the "Stations of Salvation". Brother Jacob, one of the monks led us through Jesus birth, death and resurrection as we travelled through different stations together.  His reflections were very poignant as we reflected upon our relationship with the God who "loved the world so much that he gave his Son".
Later in the day we joined with the monastic community to share the Eucharist.  The rest of the day was an opportunity to pray, meditate and search for the still small voice of God.  It would have been nice to be able to explore the grounds if the weather had been nicer. Hopefully next time we will see some sunshine!
Prayer is such an important part of the Christian life it is wonderful to be encouraged by the work of the community.
The Community of the Resurrection can be found here.