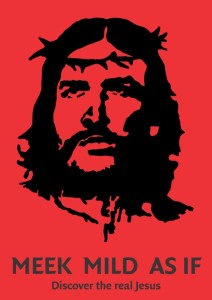 This morning, Robb challenged Holy Nativity to be brave like John The Baptist.
Matthew 3:1-12 (NRSV)
In those days John the Baptist appeared in the wilderness of Judea, proclaiming, 2 "Repent, for the kingdom of heaven has come near." This is the one of whom the prophet Isaiah spoke when he said,

"The voice of one crying out in the wilderness:

'Prepare the way of the Lord,

make his paths straight.' "

Now John wore clothing of camel's hair with a leather belt around his waist, and his food was locusts and wild honey.  Then the people of Jerusalem and all Judea were going out to him, and all the region along the Jordan, 6 and they were baptized by him in the river Jordan, confessing their sins.

But when he saw many Pharisees and Sadducees coming for baptism, he said to them, "You brood of vipers! Who warned you to flee from the wrath to come? 8 Bear fruit worthy of repentance.  Do not presume to say to yourselves, 'We have Abraham as our ancestor'; for I tell you, God is able from these stones to raise up children to Abraham. Even now the ax is lying at the root of the trees; every tree therefore that does not bear good fruit is cut down and thrown into the fire.

"I baptize you with water for repentance, but one who is more powerful than I is coming after me; I am not worthy to carry his sandals. He will baptize you with the Holy Spirit and fire.  His winnowing fork is in his hand, and he will clear his threshing floor and will gather his wheat into the granary; but the chaff he will burn with unquenchable fire."
He began with this poem by the Beat Liturgist.
From before the moment you kicked and turned somersaults inside your mother's guts,
Your soul's sojourn was set,
Born to be the bearer of news the world would never forget,

From the desert you arrived camel hair covering your sides,
Tied around your waist with a belt of leather made,
And these characteristics, along with your penchant for honey and locust,
Are, at first glance, the headline grabbers.

But what really stood you out from the crowds who followed you,
To Jordan's shores and into the waters themselves,
What really stood you apart from the crowds were the words spoken,

From your lips into eternity you alone bore into the present the prophets past,
You alone called the people from wayward ways to the task,
No simple street preacher, you lived the words you spoke,

Stuck your neck out, ready to be beheaded,
For the sake of the king who would come,
The one you felt when inside your mothers tum, deep inside, your heart pounded,

But all that is history, and yet you,
You among the few still capture hearts and imaginations,
You still stew sensations inside so many,

Like a modern day prophet shouting down apartheid,
Calling down capitalism's more vociferous sins,
Tearing down walls that people's lives are built within,

You were the attention taker,
The sole role-model,
For so many,
And today you tear through lectionaries and liturgies,

Your call to turn back,
Echoing down through the vast tunnel of time,
From where it all began to where it will all end,

And we're grateful for your word,
That we've so easily ignored,
And we're thankful for your faithfulness,
And your challenge sharp as any sword,

Turn back, for the kingdom is coming,
And it's time to turn towards the Lord.
Then these are the notes that he preached from (he doesn't write a script, just bullet points that he talks from):
What does it all mean?
I mean what is this John The Baptist all about?
What does it mean to prepare the way of The Lord in 2013?
We often find ourselves saying "why don't they come to church"?
But I ask "why do they come to church"?
What is it that gets people out of bed on a Sunday morning?
I mean why bother?
Is it the coffee?
Is it the sermons?
Is it the opportunity to sing corporately?
Is it the atmosphere?
Or is it The Christ?
Jesus is a game changer.
Jesus entered into the world and transformed it.
He wasn't interested in the status quo.
He was interested in transformation.
He was interested in revolution.
A revolution that starts with each and every one of us.
He came to tell everyone that they can be changed.
On the inside.
You can be a better person.
You can be made whole.
You can have a relationship with God because he loves you.
God loves you.
It isn't dependent on how good you are.
It isn't dependent on whether you look at yourself in the mirror and like yourself.
God knows your heart and sees you as you are.
And he came into the world to transform your life.
To restore your relationship with him.
Because he loves you.
All you have to do is say yes to his love.
Why do people go to church?
At the heart of our faith is Jesus Christ.
This is who we focus on.
This is the God we worship.
And this is who we point towards.
Jesus is the reason I can have confidence as I go around Mixenden and Illingworth.
Jesus is good news.
John is the voice of one crying out in the wilderness.
Prepare the way of The Lord.
I come to you today with a challenge.
Can you have some bottle?
Courage.
Can you be brave?
Can you prepare the way of The Lord?
I don't ask you to go and tell people they should come to church.
I ask you if you can have confidence in Christ and tell people about him.
Can you prepare the way of The Lord?
Can you be brave?
Can you be the voice of one crying out in the wilderness?
Hang on, he just said he wants us to be the voice of one calling in the wilderness.
One.
Just one?
Let's pray.
Lord, give us confidence in you.
Give us strength to witness to you.
Give us courage to prepare your way.
May we show this world your love.
In your name,
Jesus Christ the son of God.
Amen